"His wide range of repertoire, virtuosity, and beautiful musical control of his instrument enthralled the audience, who were quick to demand his return to the series the following year!"

– Peter Siepman, St. Peters Church Nottingham
Recital Programmes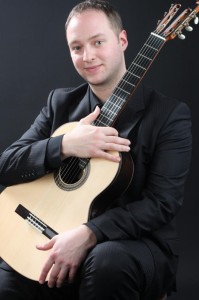 The Guitar's Many Colours – Exploring a Rich and Varied Repertoire……I like to build eclectic solo recital programs out of music from the Renaissance right up to the present day.
My repertoire includes pieces from all over the world: Tibet, Japan, Brazil, Europe and America. The classical guitar has such a rich and varied repertoire so I have tried to develop programmes with wide range of composers and style. I hope that this will provide something for everyone in my audiences with a wide range of musical styles to suit all tastes.
Early Music Renaissance and Baroque…….I love to play transcriptions of the lute music of John Dowland as well as arrangements of Scarlatti and J.S.Bach. Bach in particular has had a special place in my heart since childhood and his Prelude, Fugue and Allegro and a guitar arrangement of his First Suite for Unaccompanied Cello often feature in my recitals as core repertoire for me.
The music of Spain and Latin America……….I am a keen backpacker and often go adventuring in Andalucia, Southern Spain. Experiencing the Spanish landscape and culture has really helped me to get deeper into the music. Albeniz, Granados, Tarrega and De Falla are inspirational composers. Their music, often originally written for piano, works so well on the classical guitar with it's rich harmonies and echos of Flamenco. Along side this I often place pieces by Augustine Barrios Mangore the great Paraguayan virtuoso.
Modern Times……..I've always been fascinated with the guitar works commissioned by Julian Bream a great artist who created such a legacy of fantastic classical guitar music including works by Takemitsu, Britten, Rawsthorne, Henze and Walton. I also love Steve Reich's Electric Counterpoint and Leo Brouwer's El Decameron Negro both of which I have performed. The  American composer Lou Harrison has featured in my recitals in recent years,  many of his guitar pieces have been transcribed from harp music and have a great stillness and serenity to them.
Composition………I also write my own music adding original guitar compositions to my recital programmes.
It is almost as if the guitar has many faces or voices and that each of these composers bring out something unique and fascinating. In recital I aim to combine these many influences to create a satisfying and varied musical journey for the listener.
Classical Guitar Concerts for Music Societies and Festivals
If you are a music society or a festival organiser then I would love to hear form you. I am certain I can provide suitable concerts for you.  I love playing solo recitals for music societies and festivals and have been doing so now for 10 years.

For bookings click here.  To hear sound samples click here.To watch videos click here.
Private Recitals
Occasionally people will ask for private recitals in their homes. This is usually an intimate private event for a small group of friends and music lovers. The atmosphere can be magical and it is an honor to be invited to share my music in these special surroundings. If you would like to book a private guitar recital then please do contact me by clicking here.