Concert with James Rippingale
St Clements Church,
28th September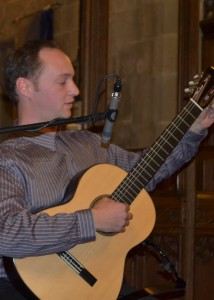 A gathering of some fifty people made up the audience and awaited the start of this classical guitar recital. This was my initiation to this instrument, so I didn't know what to expect.
James began by introducing two Bach transcriptions. These couldn't have been better and my concentration was captured from the outset. Wonderful melodies and harmonic progressions immediately found their way to my musical soul. Throughout the evening clear discriptions of each piece were given, with technical demonstrations, where needed, for any special effect. These were a great help and added interest. Pieces had been chosen from around the world, from South America to Japan, plus three compositions of his own creation. These were a pleasing addition, particularly with the stories behind them.
This was a truly full and varied programme, performed with exquisite skill and sensitivity, from a full blooded sound to the merest whisper on a single string. A live performance of this quality on a guitar came as a suprise.
Inevitably the recital ended on a high note with a set of Spanish Dances, well known to most of us. It was a magnificent evening, from a very talented musician. It offered an opportunity to witness a classical guitarist putting his instrument through many techniques, with dramatic results.
I feel sure that all those who attended valued the high quality and, like me, enjoyed and exceptional evening.
Thank-you James
Geoff Toms